Today we are going to review the all new "Zoom Room" which is now available for PC! We are going to review the Zoom Room capabilities, touch screen controls and how to design the ideal ZoomRoom. 
What is a Zoom Room for PC?
The Zoom Room for PC is a PC based application that turns your PC into a video conferencing machine that can be controls from your iPad! If you have never used Zoom Video Conferencing that this might take a moment to soak in. We highly suggest setting up a free trial and making some video calls to fully understand how intuitive this software is. Zoom has gone through great lengths to simply the user interface without sacraficing advanced functionality. The Zoom Room for PC is the natural extension of the power of Zoom into the conference room. Zoom combines video conferencing, with room management and touch screen controls to create an ideal group meeting and collaboration experience for any organization. 
What do I need to get set up?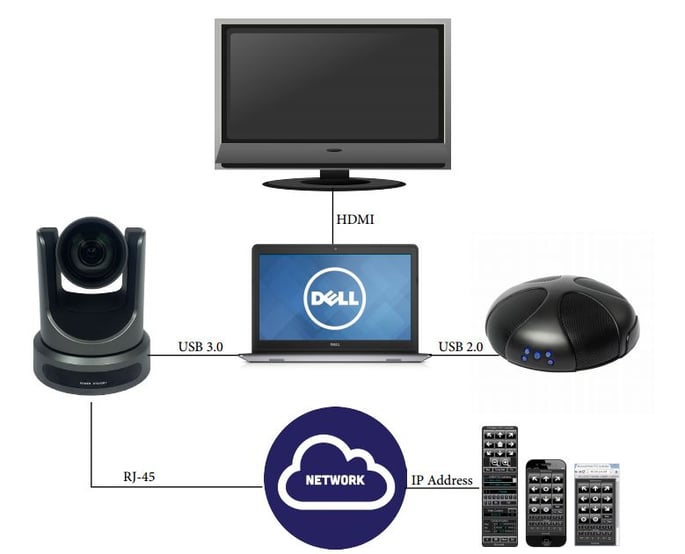 Until recently you had to have a Mac Mini and a iPad to set up a Zoom Room. But now we can set up a Zoom Room on almost any PC making it even easier to integrate into existing conference rooms and corporate networks. Above you can see a standard diagram of connect a USB conference camera, a USB speakerphone and computer together to make up the Zoom Room for PC.
What I can do from the iPad touch screen?
Forget about expensive Crestron and Extron touch screen systems. Today you only need an iPad and the free Zoom Room app on the same network as your PC. Above you can see screenshots taken from the most popular pages. Everything you would need in a conference room is at your finger tips including: camera control, audio conference dialing, calendar integration and wireless presentation. 
Once your Zoom Room is set up your organization can book the conference room through Microsoft Exchange or Google Calendars. When users walk into the room they will see the meeting room calendar and have the ability to launch a scheduled meeting with a single tap. If there is no scheduled meeting users can simply start a ad-hoc video conference call and invite participants just as easily. 
Try the all new Zoom Room
Download a free 30 day Zoom Room trial!
Get a Free Trial of the Zoom Room and save 10% a yearly subscription.
Why Zoom Rooms?
Integrates with Google Calendars and Microsoft Exchange
Wireless Screen Sharing
Simple (Single Sign-on, BYOD) no training needed!
Powerful (On-Premise Depolyment, H.323/SIP)
Topics: Zoom.US, zoom, Zoom Rooms